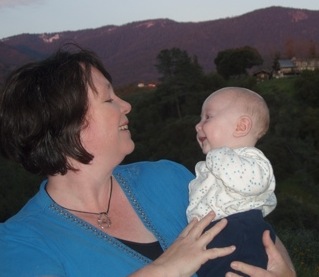 Amanda Rose, Ph.D., is both a data analyst for social service agencies and a part-time food writer, writing about her life and food in the southern Sequoia National Forest homestead in California. Amanda has written for or been featured at Organic Gardening Magazine, Grist, Ethicurean, The Cornucopia Institute, RealMilk.com, and the Weston A. Price's Wise Traditions. (The latter for an epic experience with bone broth.)
Rationale for the Iron Site
dailyiron.net was developed by Amanda Rose, author of Rebuild From Depression: A Nutrient Guide, a book on the link between food nutrient deficiencies and depression. Amanda had severe postpartum depression in 2001-2005 centering around the birth of her son. The baby pictured here, however, is Amanda's second son that she had in late 2008, with a depression-free pregnancy and postpartum experience. (Read her postpartum depression success story.)
Iron deficiency is implicated in postpartum depression and is included in the Rebuild book. Many people found the Rebuild site looking for information on iron and Amanda saw the need for a site on the topic of iron in food, combining her interest in food, nutrient deficiencies, and her love of data.
With a Ph.D. in political science, Amanda has worked with social service agencies in California analyzing their own impacts on health, mental health, and achievement. Iron deficiency can be devastating for a young child and directly impacts his or her physical stature as well as school performance. Located in Tulare County, California's most impoverished county, iron deficiency is a harsh reality of life. The deficiency also affects Hispanics disproportionately, inspiring the development of a Spanish version of this website in development now.
Find Amanda on Twitter, tweeting about iron on occasion and an assortment of other happenings at her home (a former brothel, in fact) in the Sequoia National Forest of California.